Products
We offer a wide range of accessories for the production of calendars, maps and posters:
Metal strips of tinplate, "stone Finnish" surface quality, length up to 100 cm
Metal strips coated with PVC elastic film of high scratch resistance, up to 100 cm (41 colours)
PVC tubes for binding maps and posters, length up to 300 cm
Windows for calendars in the following sizes: 18x23 mm, 20x30 mm, 26x35 mm with rubber clip
Windows for calendars in the following sizes: 20x30 mm, fastened on calendars
* All metal strips are made with one/two holes or hangers (at a customer's request).
Color guides
You can choose colors from two color guides:

Color guide 1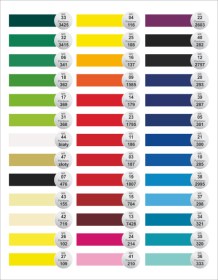 Download hi-res version
Color guide 2
Download hi-res version
Services
We offer:
Providing calendars with metal strips of our own production
Framing maps and posters with PVC tubes
Assembling window elements for calendars
Ordering
We accept orders placed by phone, e-mail, fax after previous agreeing to the form of payment.
Gallery of products
Below you can see some of the products offered by us.
To see a full sized photo, please click on the miniature of the picture.